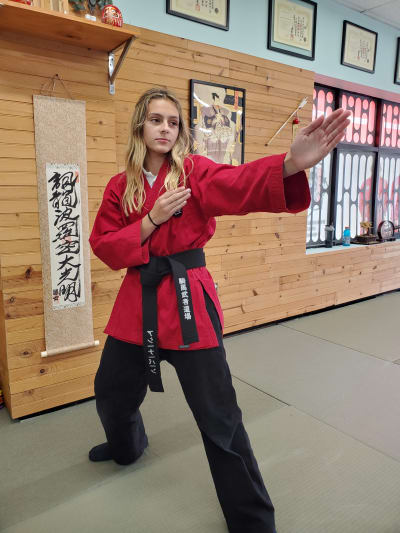 Sensei Athena Byrne
Athena watched her younger sister learn martial arts for a while before she started. She was very nervous and shy, and her parents practically had to drag her onto the mat for her first class. Now she assists and/or leads her own classes!
She started training in November 2018. Little did she know, she's a natural! To watch her on the mat you'd think she'd been doing this her whole life.
Athena earned her 1st degree junior black belt in September 2021. Currently she holds a blue belt/6th kyu in adult ninpo and the Kukishinden Ryu Bojutsu- Shoden Menkyo. She is working towards her adult shodan (1st degree) adult black belt.
Athena is one of the most technical students we have here at Empire Dojo. Two of her favorite martial arts heroes are Misha Tate and Joanna Jedrzejczyk.
When she was younger she competed in horseback riding for 3 years and routinely took care of the horses while the owner was out of town. She enjoys swimming, going bowling, playing volleyball and basketball, spending time at her family cabin, camping, hanging with friends, and making Tiktoks.
Her goal is to become a UFC fighter.
When asked why she likes being an instructor, she replied, "I enjoy helping other kids that deal with the same anxieties and nerves that I did, and I truly value that I can be a positive role model for those starting in Martial Arts."